Sun Festival
http://fests.eu/de/festival/sun/
2015-07-19
2015-07-26
Ungarn
0-10,000
Wand
Timeline Photos
photo
2016-09-08 15:15:34
Making the best of the good weather we are working onsite of the land, so in the coming week we won't be much online. The website and email system are functioning again, with important issues please write us to the members@solarunitednatives.org email address instead of fb messages. Meanwhile the period of the fundraising campaign has been prolonged, because many people were on holidays and have not heard about it. There are only 7 days left… Thanks for all your support so far! <3
Gyüttment Fesztivál 2016. augusztus 25-28.
event
2016-08-22 12:11:10
This Thursday the Gyüttment Festival will begin at Csobánkapuszta, which is the annual gathering of the 'Nature-conscious' people choosing the rural life and environmental values. In four days more than a hundred lectures and workshops will take place. Associations, foundations, communities present themselves, but individual roads and their results can be learned as well. Important! For S.U.N. members the event is free, but please register here: Registration takes 1 minute, but it's very important for the predictability and to maintain a family atmosphere! Event page: More info about the programs (Hungarian):
www.facebook.com
Saving the SUN: a nonprofit Festival & Eco-village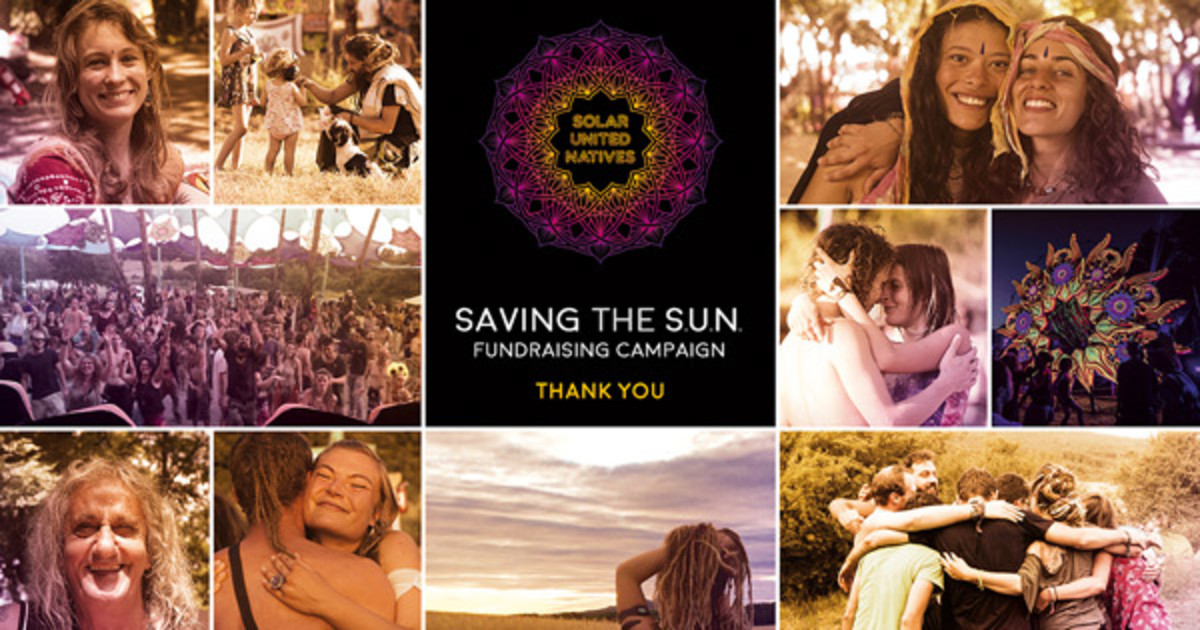 Dear S.U.N. Family & Friends. It is with great regret that due to the higher production costs at this years event and the surprising lack of ticket sales we have lost a considerable amount of money. However, we really truly believe in what we do and we are fully committed to creating the homeland of the psychedelic underground tribe here. Financially we made a mistake. Now we truly need your help...
www.indiegogo.com
Cosmic Dance Festival
event
2016-08-11 20:24:03
Our great friends and helpers are organising something magical in Slovakia. If you are nearby check out Cosmic Dance!
www.facebook.com
Our Road To The Solar United Natives Festival 2016
video
2016-08-09 19:52:25
Trip to the S.U.N. - a short video by Otter Potter. Thank you for sharing with us!
Solar United Natives 2016 - What the people said | mushroom magazine | mushroom magazine
Mushroom Magazin has published "Solar United Natives 2016 - What the people said" Thank You & P.L.U.M. :) (Peace Love Unity Mushroom)
www.mushroom-magazine.com
Lost & Found
photo
2016-08-05 14:21:56
After cleaning up the fields we found a couple of things. Please write us a message and something specific about your item, and we will send it back to you.
Solar.United.Natives 2016
Solar.United.Natives 2016 - Photos by Viktor Chovanec, thank you!
goo.gl
Solar.United.Natives's cover photo
photo
2016-08-01 12:18:45
Thank You!
Thank You <3
video
2016-07-30 17:37:15
Thank you for making it happen... with BMSS Records Zion 604 TesseracTstudio Suntrip Records Nigel Revolve Aaron Peacock Ocelot KaLs Puyol Suduaya Aioaska DJ Emok Anton van Doremalen Psychotria Records Mimesis Deco Janis Lipstovs ZuMArt Decor Dharmatronic Gagarin Project StereOMantra Kalya Scintilla Botond AstroPilot Protonica Micasphere and many more... Music by StereOMantra Aerial video footage by Yohann Oetheimer
Kommentare
Teile deine Meinung zu diesem Festival
Website www.sunfestival.info Kategorie Dance / Electronic Besucher 0-10,000
Facebook Twitter Google Bearbeiten dieses Festival Hintergrund hochladen
19.7 - 26.7 2015 (vergangen)
24.7 - 28.7 2013 (vergangen)
Weitere Festivals in diesem Stil: Dance / Electronic