Telluride Brews and Blues Festival 2016
Vereinigten Staaten
Telluride Brews and Blues Festival
http://fests.eu/de/festival/telluride-brews-and-blues/
2014-09-12
2014-09-14
Vereinigten Staaten
Wand
Photos from Telluride Blues & Brews Festival's post
photo
2016-05-01 19:50:23
Volunteer applications are open now for the 2016 Telluride Blues & Brews Festival. Grab a friend, sign up and earn a 3-Day Pass!
NPR Music
video
2016-04-29 18:35:02
Great way to start off the weekend! New video featuring three classics from #TellurideBlues alum Peter Frampton! We couldn't help but sing along.
Durango Blues Train
photo
2016-04-28 22:23:46
The Durango Blues Train returns on August 12th and 13th for two consecutive evenings of live blues aboard the Durango & Silverton Narrow Gauge Railroad. Presented by SBG Productions and the Telluride Blues & Brews Festival, this unique live music experience takes place aboard the historic steam train in Durango, Colorado with musicians performing in their vintage coach car, while passengers are free to sample each musical act by dancing from one rail car to next.
Visit Telluride
photo
2016-04-27 19:59:10
Sustainability Overview | www.sierranevada.com
Shout out to Sierra Nevada! Sierra Nevada is an environmental leader in the brewing industry and the official beer sponsor of the Telluride Blues & Brews Festival. We're proud to work with responsible partners who share our sustainability goals. Cheers!
www.sierranevada.com
2015 Telluride Blues & Brews Festival Poster
Less than 15 of these remaining. When they're gone, they're gone! Limited supplies available below - get your hands on the last ones while you still can!
shop.tellurideblues.com
Rebirth Brass Band, Trombone Shorty, Terence Blanchard to perform at White House
Amazing to see some former #TellurideBlues & Brews artists booked for this special tribute to International Jazz Day at the White House on April 30, 2016. This annual event is celebrated as a mark of cultural diplomacy.
www.nola.com
9 reasons Denver is U.S. best beer town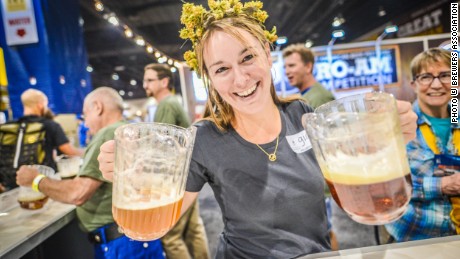 Colorado represent! With 48 breweries in metro Denver, there's more than enough fresh local brew to keep your taste buds guessing. Here are the "Nine Reasons Denver is America's Best #Beer Town (sorry, Portland)" via CNN Travel
www.cnn.com
Town Park stage construction nearing completion
The new stage in Telluride Town Park is almost ready for the festival season ahead!
www.telluridenews.com
Preparing for Summer
"With hiking and biking, food and festivals, and more to prepare for, we're truly looking forward to hosting all of our visitors this summer" via Telluride Ski Resort
www.tellurideskiresort.com
Kommentare
Teile deine Meinung zu diesem Festival