Fests.eu provides latest news for 1000+ festivals all over the world
Formentera Jazz Festival 2017
Spain
Formentera Jazz Festival
http://fests.eu/festival/formentera-jazz/
2015-06-05
2015-06-07
Spain
0-10,000
Feed
video
2017-03-29 23:04:46
Live musicians, Dj's, good partying, swimming, dancing, eating and much more... Formentera Jazz Festival, 1-4th of June 2017
sailing loop website
video
2017-03-27 13:21:08
Eres de mar? A navegar! Este año volvemos a ofrecer la posibilidad de viajar al Formentera Jazz Festival (1-4 de Junio) en barco velero, tanto desde Barcelona como de Valencia (novedad!). Esta opción de navegar el Mediterráneo rumbo a la joya de Formentera en Junio, no sólo es una aventura única en toda regla, sino también una solución interesante de transporte y alojamiento durante los días del festival. Que no se te escape la posibilidad! Reserva ya tu plaza por 425€ + gastos extra. Más info en info@formenterajazzfestival.com
Timeline Photos
photo
2017-03-25 15:27:36
FJ'istas! tenemos más artistas confirmados! Esta vez es el turno del proyecto 'Matic', un combo de electro-jazz instrumental liderado por Amadeo Moscardó (teclados y fx), con el acompañamiento estelar de Roqui Albero (trompeta y fx) y Vicente Porcar (batería)! Se va formando la fiesta!! Seguimos!
Rising Sun - Viktorija Pilatovic (Official Music video) HD
video
2017-03-24 14:25:40
FJ lovers! con ilusión confirmamos la participación en la isla de la gran voz de Viktorija Pilatovic!! Vamooss!!! Viktorija was born on the 12th of March in 1989 in Klaipeda, Lithuania. At the age of 6 she started playing classical piano, winning many Carl Czerny Piano Competitions. Throughout her childhood, she took part in many children ensembles performing all around the country. In 2007, she began her Bachelor studies in Jazz Vocal at the Lithuanian Academy of Music and Theatre. Since then, she has participated in a number of Jazz contests, such as the International Jazz Vocal Competition in 2008, 2009 and 2010, winning 1st prize in 'Jazz Fountain 2008'. In 2009, Viktorija was invited to take part in "Klaipeda's Sea Festival", appearing at The Tall Ships' Races where she performed with The National Big-Band, recieving live coverage from Lithuanian national TV and radio. In 2010, Viktorija moved to The Netherlands to further her jazz studies at Prins Claus Conservatorium. Here her style evolved from traditional to contemporary jazz, fusing a number of styles and colors. Viktorija took lessons from J.D. Walter, Ralph Peterson, Alex Sipiagin, David Berkman, Don Braden, Jeff Cascaro, Joris Teepe, Freddie Bryant, Gene Jackson and Robin Eubanks. In 2011, Viktorija won 3rd prize at the The Nederland Jazz Vocalisten Concours for her completely original arrangement of the famous standard "My Favorite Things", featuring a solid bass line, modal harmonies and odd time signatures. The show was broadcasted on Radio 6 The Netherlands. She now holds two bachelor's degrees, one from the Prins Claus Conservatorium and one from the Lithuanian Academy of Music and Theater and Master's Degree in Music, Contemporary Studio Performance program at the Berklee College of Music, Valencia Campus. In March 2012, she found herself performing as a solo artist with PCC Sympho-Jazz orchestra conducted by the legendary John Clayton. In July she performed at the Montreux Jazz Festival in Montreux, Switzerland. These accomplishments were made possible by Viktorija's dedication and perseverance to her craft, starting in the early years of childhood. She performed her original composition "We Could Solve That" with the internationally renowned bassist Victor Wooten in Valencia, at Spain's iconic Palau de les Arts Reina Sofia performing arts complex. Viktorija also performed at the Berklee Yamaha All-Stars Concert alongside music legends bassist Abraham Laboriel, saxophonist Perico Sambeat and vibraphonist Victor Mendoza at Berklee Valencia's Welcome Lecture for Berklee College of Music President Roger Brown. From 2013 until May 2016 Viktorija was teaching Jazz Vocal Performance at USFQ College of Music, Berklee College of Music International Network Member School in Quito, Ecuador. Her voice features on Perico Sambeat's Big Band album "Voces".
Nickodemus live mix NYE 2016 - 2017 in SF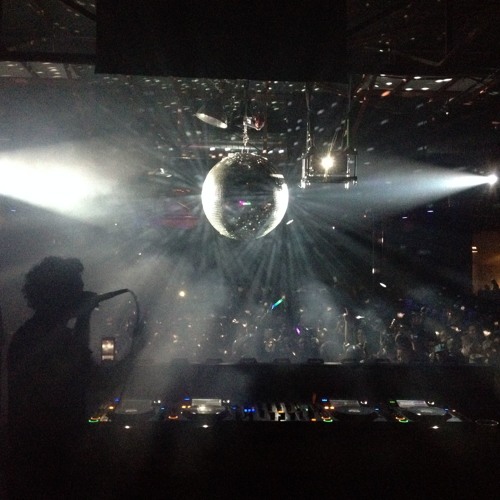 Buenos días família!! Good morning everyone!! Felices de anunciar una súper incorporación en la próxima edición del Festival para cerrar el Sábado noche! Nada y más y nada menos que Dj Nickodemus ha confirmado su participación y la va a liar gorda! Who's Nickodemus? Nickodemus has been touring as a DJ all over the World since the mid 90's. As a producer, he has three albums & remix albums entitled 'Endangered Species' 'Sun People' & 'Moon People' as well as nine 'Turntables on the Hudson' compilations to date. As an experienced musical traveler, he excels most when playing in versatile settings letting the space and time guide the music and the journey. Nickodemus' connection to the people combined with his background & vision is guaranteed to bring the party & dance-floor anywhere from deep, introspective, electronic moods to more organic sun - filled percussive sets. His latest release 'WONDERWORLD: 10 years of Painting Outside the Lines' captures a decade of DIY productions and memorable releases on his own WONDERWHEEL Recordings label. Songs such as ''Cleopatra in New York' (with Carol C) and 'Mi Swing es Tropical' (with Quantic & Hector 'Tempo' Alomar)' broke barriers in dance music and helped pave the way for global fusion artists with heavy beats of the clubs combined with organic latin, african & eastern and instrumentation. Nickodemus has sustained this energy and momentum for over 18 years with Turntables on the Hudson parties and WONDERWHEEL Recordings, attracting artists from all over the World including Alsarah and the Nubatones, Novalima, The Pimps of Joytime, The Spy from Cairo, Chancha Via Circuito, Sorceress and many more to come. In his remix machine, Nickodemus has done mixes for a wide range of artists including: Bob Marley, Billy Holiday, Nina Simone, Thievery Corporation, Quantic, Mr Scruff, The Pimps of Joytime, Miguel Migs, Natasha Atlas & more. He's now touring USA, Europe, Australia and the Middle East as well as working on his fourth studio album to be released in Autumn 2017.
soundcloud.com
Antonio Lizana - Quimeras del Mar (EPK Corto)
video
2017-03-19 22:42:49
Flamenco Jazz en Formentera el Sábado 3 de Junio! felices de confirmar la participación de Antonio Lizana Quartet en la próxima edición!
Anderson .Paak - Come Down (Official Video)
video
2017-02-17 16:02:26
auuu! feliz viernes y feliz fin de semana Formentereoides e island lovers..!
And Then (Official Video)
video
2017-02-15 15:13:44
Amig@s! Cada vez queda menos para 1 de Junio! Dentro de poco anunciaremos artistas, pero por el momento os deseamos una feliz tarde con otra de James Tillman, saludos a todos!
Ibrahim Maalouf - Movement I
video
2017-01-24 16:49:30
Beautiful song from Ibrahim Maalouf for you Preciosa canción de Ibrahim Maalouf para vosotros
Consell de Formentera
video
2017-01-21 13:18:35
Nos vemos del 1 al 4 de Junio! See you from the 1st to the 4th of June!
Comments
Share your opinion of this festival