Telluride Brews and Blues Festival 2016
Etats-Unis
Telluride Brews and Blues Festival
http://fests.eu/fr/festival/telluride-brews-and-blues/
2014-09-12
2014-09-14
Etats-Unis
Mur
Songs We Love: Shovels & Rope, 'St. Anne's Parade'
Shovels and Rope embraces joy and grief in new video for "St. Anne's Parade" released via NPR Music
n.pr
giphy.com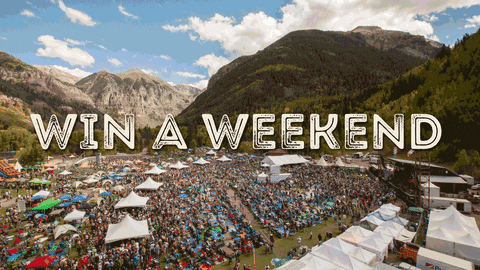 Towering peaks, fall colors, world-class music, craft beer, camping and mountain adventures! Is there anything better? At the Telluride Blues & Brews Festival, we don't think so! We've teamed up with Big Agnes, YETI, Voormi, Maui Jim, Bootdoctors and Backpacker Magazine to offer the Adventure Giveaway of a lifetime! Enter here for your chance to win the ultimate Festival Adventure Giveaway:
giphy.com
Telluride Blues & Brews Giveaway
We're giving away two 3-Day Passes to this year's Festival! Escape to Telluride Blues & Brews Festival on September 16th -18th for a weekend of music and craft beer in the beautiful Rocky Mountains! Enter to win here:
woobox.com
Blues & Brews Yoga Sessions
We are thrilled to announce the free Blues & Brews Yoga Sessions presented by Telluride Yoga Festival! This is your weekend opportunity to unplug from the ordinary and discover the extraordinary from within. Located in Telluride Elks Park (FREE and open to the public) on September 17 and 18 from 10:00 - 11:00 a.m. Bring your yoga mat, water, towel and active wear (come with or without --these items are not mandatory to join in the class). For more info, click here:
www.tellurideblues.com
Photos from Telluride Blues & Brews Festival's post
photo
2016-08-25 00:37:56
[ALERT] 3-Day Passes, Saturday Passes and Late Night Show Passes are now very limited. Get yours TODAY at TellurideBlues.com and celebrate three days in the Rocky Mountains with World-Class Music, 170 Craft Beers and Ciders, Comedy, Yoga Sessions, Late Night Shows and Endless Recreating on September 16th-18th.
Timeline Photos
photo
2016-08-22 17:36:47
Only 25 days left until the 23rd Annual Telluride Blues & Brews Festival. Who's ready?
Israel Nash - Full Performance (Live on KEXP)
video
2016-08-21 18:35:32
Ladies and gentlemen...we're excited to share this Israel Nash set live from the KEXP studios. The country's hippest radio station caught on to his mesmerizing sound early on – you can hear the Neil Young and 1970s electric folk influences. We can't wait to see him in Telluride next month. He is playing a free show on Thursday, September 15th at 5:00 pm (Sunset Plaza), Friday, September 16th at 1:30 pm (Telluride Blues & Brews Festival Main Stage) and later that evening at 10:00 pm (The Moon at O'Bannon's). More info here:
Basecamp Gear Rentals
The Project Shelter Basecamp Gear Rental packages are now SOLD OUT! Thank you to everyone that purchased a camping gear package. Your complete campsite, with everything included, will be set up, staked down, and ready to rock. Pack light and skip the camping gear (but don't forget your clothing layers, snacks and any other amenities)! See you in Town Park!
bit.ly
Telluride Blues & Brews Festival
[SELL OUT ALERT] Less than 20 Camping Passes Left! At $50 per-person for four nights in Telluride, with exclusive campground shows, fun challenges to win tickets, easy access to all of the music stages - camping is the most affordable and fun way to experience the Festival! We're not joking--when these are gone, they're gone! Get yours TODAY:
www.tellurideblues.com
Blues For Breakfast
Start your mornings off at Telluride Blues & Brews Festival the proper way with blues, breakfast and drinks at Blues for Breakfast. Saturday's Breakfast will feature the Telluride Blues Challenge Finals and Sunday will feature A.J. Fullerton with the Telluride Blues Challenge Runner-Up. More details:
bit.ly
Commentaires
Partagez votre opinion de ce festival
Site Web www.tellurideblues.com Catégorie Croix-genre
Facebook Twitter Google Modifier ce festival Envoyer fond
12.9 - 14.9 2014 (passé)
13.9 - 15.9 2013 (passé)
14.9 - 16.9 2012 (passé)
D'autres festivals dans ce style: Croix-genre