Ultra Europe Festival 2016
Croatie
Ultra Europe Festival
http://fests.eu/fr/festival/ultra-europe/
2014-07-11
2014-07-13
Croatie
50,000-60,000
Mur
gph.is
Where we will all meet...in only 20 days <3 #seeyouthere #UltraEurope #UE2016
gph.is
Timeline Photos
photo
2016-06-23 18:15:01
That energy when the DJ comes on stage and the show is about to start <3 #goosebumps #ultraeurope
Ultra Europe 2016
video
2016-06-22 17:57:15
In less than 1 month, 100.000+ Ultranauts will invade the Poljud Stadium for the best 3 days of their lives! Are U Ready? #ultraeurope #ultra2016
Resistance is back!
video
2016-06-21 19:44:45
Resistance returns to Ultra Europe! Catch all the action featuring: - Adam Beyer - ANNA - Apollonia - Carl Cox - ELIO RISO - Hector - Hot Since 82 - Ida Engberg - Jamie Jones - Jon Rundell - Joseph Capriati - Marco Carola - Matador - Monika Kruse - Nic Fanciulli - Pero FullHouse - RØDHÅD - Solomun (Official) - Technasia
giphy.com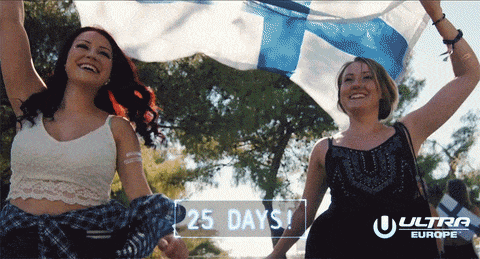 Only 25 days until 100+ nations unite at Ultra Europe <3 Where will you be coming from?
giphy.com
Timeline Photos
photo
2016-06-20 10:53:20
The week always starts great with Ultra Monday! Buy your Ultra Europe ticket today with your MasterCard and get a 10% discount! Offer only valid on June 20th, until 23:59 CET, through this link:
Timeline Photos
photo
2016-06-19 21:30:19
Ready for that unique Ultra feeling again? #ultraeurope #ultra2016
Afrojack Ultra Europe Shout-Out
video
2016-06-18 20:10:35
Afrojack is ready for Ultra Europe, and up for great times with all Ultranauts! Are you ready too? www.ultraeurope.com
Timeline Photos
photo
2016-06-17 19:15:01
We are one <3
Timeline Photos
photo
2016-06-17 13:20:46
Only 2 days remain for the 1st round of the DJ Contest! This is your final chance to perform in front of the whole world at Ultra Europe! Upload your set at www.ultra-djcontest.com, and collect as many votes as possible to win a spot on the Ultra Europe stage!
Commentaires
Partagez votre opinion de ce festival
Site Web ultraeurope.com Catégorie Dance / Electronique Visiteurs 50,000-60,000
Facebook Twitter Google Modifier ce festival Envoyer fond
11.7 - 13.7 2014 (passé)
12.7 - 14.7 2013 (passé)
D'autres festivals dans ce style: Dance / Electronique