Eco Festival 2016
Slovenia
Eco Festival
http://fests.eu/it/festival/eco/
2013-07-26
2013-07-28
Slovenia
30,000-40,000
Muro
Timeline Photos
photo
2016-04-29 13:00:01
ECO festival 2016 (official) Focus on: PETDuo (BRA) Pet Duo @ Eco Festival 2013: BIO: Machine Music with Heart and Soul! Rare is the electronic duo that makes a significant impact on the music scene, but even rarer is the electronic duo that helps pioneer an entire genre, establishes a twenty-year legacy for building an international powerhouse, and all the while manages to stay happily wed for over two decades. PETDuo are true masters of their domain. Formed in 1997 in São Paulo, Brazil, the Berlin-based hard-techno sensation have been bucking trends with their non-conformist attitude and maverick-like ethos since their inception, ruthlessly carving a place for themselves in the overpopulated realm of electronic music, and establishing the group as an innovator, a vanguard that fashioned many of Techno's popular trends.
ECO FESTIVAL's cover photo
photo
2016-04-29 12:59:08
Reminder - 2 weeks to go & only 1 day left to buy cheaper tickets :) We prepared for you: - free ECO festival 2016 tickets - free ECO festival 2016 T-shirts - free ECO festival stickers Tickets: See ya <3
Timeline Photos
photo
2016-04-28 13:00:36
ECO festival 2016 (official) Focus on: O.B.I. (GER) O.B.I. @ Monegros Desert Festival 2012: BIO: Tobias Lüke aka O.B.I., who was born in the German town Greven, started to spin at 14, making his debut as a Club DJ with 18 and a impact as a newcomer contest winner in Münster's phenomenal Fusion Club. After this successful start, he began to organise his own events called TekkTribe which grew into a fully-fledged booking agency and a label in 2003. Soon O.B.I. started to become an established name for Hard Techno as he released records like the infamous Gehörsturz EP wich was 6 weeks number one seller in europes biggest online recordstore Web-Records. With more than 175 released Tracks on more than 60 diffrent Vinyls he formed the scene like no one else. His productions apear on various mix - compilations and on the most important labels in the History of Hardtechno. Compressed, Nerven, Skull Tunes, TekkTribe, Distorted, Abstract, Carnage, Combat Skill, Artillery, Crowbar, Lifeform, Working Vinyl, Hardwork and many more..... Since 2004 Tobias is what we call a global player. He performed his unique Dj Sets & Live Pa´s on some of the biggest Events around Europe inclunding mega Festivals like Nature One, Awakenings and Monegros where O.B.I. spinned the decks for up to 10.000 people.
DECONSTRUCT FESTIVAL - 30. 4. 2016 - ŠTUK / Road To ECO Festival
event
2016-04-27 14:35:52
People of ECO, dont miss DECONSTRUCT FESTIVAL - 30. 4. 2016 - ŠTUK / Road To ECO Festival which is already running with super quality program including workshops, conferences ecc...and finishing with 1st Road to ECO in Slovenia.
www.facebook.com
Timeline Photos
photo
2016-04-27 13:00:01
ECO festival 2016 (official) Focus on: Mario Ranieri (AUT) Mario Ranieri @ Awakenings Festival 2012: BIO: Mario had his first experiences with music during his childhood days. He played the piano and received influences in electronical music through his cousin who looked after him. Mario made musical experiments with his computer and created his first technotracks. At the end of grammar-school he started to work and bought his first real synthesizer, and after some time got more and more equipment. He went on to now produce more professionally which was important for him. He is today Austria's most famous hardtechno-producer and dj and continues to release innovative music on his labels Schubfaktor, Schlagwerx, Vernacular, Ostarrichi and Girlpower and on other labels such as Fon, Lifeform, Artillery, Abstract, Highball, Carnage, Subsounds, Friendly Fire, Tausendgroove and Tekktribe. Mario's great dj sets are as hard to categorize. Just like his tracks, they go from groovy house, to stomping hardtechno, punky hardcore and crazy noise. Overall he spreads a very positive vibe. He connects a lot of different styles and is unique in his own genre.
Timeline Photos
photo
2016-04-26 19:00:59
ECO festival 2016 (official) Focus on: Lag (Mord / SRB) Lag @ Lag @ Mord Records label night, Factory 010, Rotterdam: BIO: A promoter of the underground culture, a DJ and a respected producer - Serbian-born Lag is the on the forefront of the new wave of techno artists. It is easy to notice from his sound that he did not take the usual route on his musical journey. He grew up on punk, acquired a classical education in music and then quit it all to find himself enchanted by the possibilities of expressing oneself both through DJing and making electronic music. He chose techno to be the host for his creative discharge, while always incorporating a certain dosage of his previous musical life to his current work. Grit, rhythm and attitude are his main tools as he blends them into his music, creating a potent combination which enchants, moves and unifies. Lag's DJ performances on the Exit festival's main DJ stage, and the legendary Tresor club speak volumes of his ability to engage his crowd, and offer an intense sonic experience. Through his DJ sets, as well as through workshops and events he organized and promoted under the umbrella of his organization 29524, Lag put efforts into closing the gap between the "good" and the "known". Since then his promotional activities have reduced, and his focus moved to delivering extremely functional DJ sets, but also on creating and releasing original music, mostly in the techno genre. After several appearances and releases, predominantly on the Serbian label Teskoba, his remix of Grovskopa's "Atopic" is released on vinyl by Sect Records. He follows it up with his first EP named "Stutter", a highly acclaimed release which came out on the notoriously uncompromising Singularity Recordings, and his latest output, a 12" release on MORD Records named "Misfit EP", underlines the quality and uniqueness of his already recognizable sound. Lag is set to stay on his current path as his mission, his initial vision, is yet to flicker. His ruthless determination is awe inspiring, and is, along with his musical prowess, the main reason for his rising popularity. Lag is definitely someone to keep an eye on, but more importantly - someone to listen to. After all, as he frequently states, "it's all about the music".
ECO festival 2016 (official teaser)
video
2016-04-26 12:38:06
People of ECO, here we go with official teaser 2016 :) Like it, share it, spread the word & fight for techno Official Event: ECO festival 2016 (official) Big up for Trumba Video <3
Timeline Photos
photo
2016-04-25 13:00:01
ECO festival 2016 (official) Focus on: DJ Gumja (Techsturbation Rec, Eco Festival / SLO) Dj Gumja @ Eco Festival 2014: BIO: DJ Gumja stepped on the music scene back in the year 2001, when he was first introduced to his audience in Diskoteka Titanic in Sežana, Slovenia. Ever since his sound occupied the dance-floors in all major clubs around Slovenia and other countries such as Holland, Austria, Italy, Hungary, Bosnia and Herzegovina, Croatia. He also played at bigger music festivals abroad like Maximal Festival, Industrija... The last couple of years he got busy with his own production and has releases on record labels such as Techsturbation, Vezotonik, Techno Artillery, Sub Cult, Soul Access, Sound Evolution, Intuition etc. Besides spinning and producing he is also active at organizing party series in Club Simfonija under names 'Schranz-Tanz Night' and 'Techsturbation'. In October of 2010 he launched his own record label 'Techsturbation Records' with releases from some of the top techno names such as David Moleon, Fer BR, Goncalo M, Primus V, Mario Montero, Wyrus, Dj Cristiao, Veztax, Omega Drive, Alexey Kotlyar, Almir Ljusa and others. He is also resident DJ of the biggest electronic festival in Slovenia - ECO Festival. His heart beats to techno and he won't let the trends change his aspects towards it. That's why you can always expect him to serve you with a mind blowing funky, energetic and driving techno set! He has many plans for the future, so watch out, the name DJ Gumja will deffinitely make some more noise pretty soon.
gph.is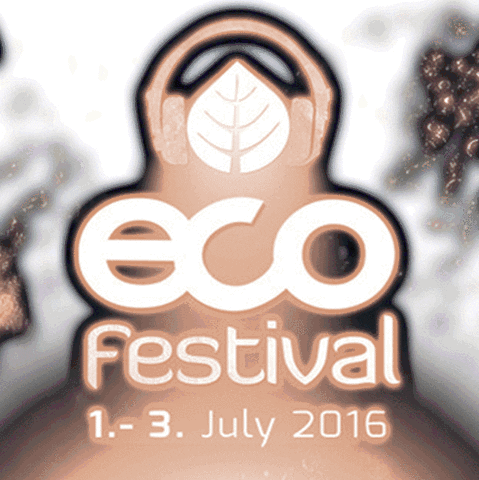 ECO 2016 army :) AnD Chris Liebing Raffaele Attanasio Rebekah RØDHÅD Speedy J ++ Mord Records Bas Mooy UVB Lag ++ PETDuo Frank Kvitta O.B.I. Mario Ranieri Chris Chambers DJ Gumja Veztax & others
gph.is
ECO FESTIVAL's cover photo
photo
2016-04-22 12:38:53
Official event: Stay tuned - early bird tickets on sale from 14.2.2016 !
Commenti
Condividi la tua opinione su questo festival
Sito www.eco-festival.com Categoria Dance / Elettronica Visitatori 30,000-40,000
Facebook Twitter Google Modifica questo festival Carica sfondo
26.7 - 28.7 2013 (passato)
3.8 - 5.8 2012 (passato)
Altri festival in questo stile: Dance / Elettronica