Telluride Brews and Blues Festival 2016
Verenigde Staten
Telluride Brews and Blues Festival
http://fests.eu/nl/festival/telluride-brews-and-blues/
2014-09-12
2014-09-14
Verenigde Staten
Muur
SBG Productions
photo
2016-08-31 01:47:07
2016 Telluride Blues & Brews Festival, a playlist by tellurideblues on Spotify
Check out this #TellurideBlues playlist featuring hits from Joe Walsh, Gary Clark Jr, The Mick Fleetwood Blues Band featuring Rick Vito, Jason Isbell, Anders Osborne, Shakey Graves, Vintage Trouble and the rest of the stacked lineup!
open.spotify.com
Photos from Telluride Blues & Brews Festival's post
photo
2016-08-30 04:45:00
David "Honeyboy" Edwards was born June 28, 1915 in Shaw, Mississippi. Honeyboy was one of the last living links to Robert Johnson and one of the last original acoustic Delta blues players. He is a true blues legend and his story is an important part of music history. Honeyboy took the Telluride Blues & Brews Festival stage by storm in 2007. Sadly, he passed away four years after on this day, August 29. Today, we remember and honor his legacy. Rest in peace Honeyboy.
Fais Do-Do with Anders Osborne | Sheridan Opera House
[ALERT] There are less than 30 tickets left for the #TellurideBlues Closing Celebration, Fais Do-Do, on Sunday, September 18th with Anders Osborne at the historic Sheridan Opera House! This is the final show of the Festival and a highlight for many. The show starts at 10:00pm and tickets are $25. To purchase tickets, click here . Osborne is considered one of the top songwriters and guitarists from New Orleans. His records are a must-have for any serious music lover and to see him live is to become a believer.
www.tellurideblues.com
Timeline Photos
photo
2016-08-29 19:16:56
Join us in Mountain Village's Sunset Plaza for our FREE Sunset Blues Concert on Thursday, September 15th from 5:00 to 7:00 p.m. featuring Con Brio and Israel Nash! Sunset Plaza is a short, beautiful gondola ride up the mountain from the town of Telluride! The event and gondola ride are free and open to the public. Read more here:
Telluride Blues & Brews Festival
Pre-order the new Jamestown Revival album "The Education Of A Wandering Man" and get two songs instantly! The full album is set to be released on October 7th. We're hoping to get a preview and hear some of these new songs when they play at Blues & Brews this next month -- September 18th at 3:40 pm (Main Stage).
republicrec.co
Duane Allman & The Allman Brothers; Song Of The South (Preview)
video
2016-08-28 18:00:01
Join us for the film screening of 'Song of the South: Duane Allman & The Rise of the Allman Brothers Band' Wednesday, September 14th at 8:30 p.m. at the historic Sheridan Opera House. Brought to you by KOTO Community Radio Telluride's DJ Jimmy Jazz and the Telluride Blues Society to raise funds and awareness for domestic violence and sexual assault prevention. More info here:
Songs We Love: Shovels & Rope, 'St. Anne's Parade'
Shovels and Rope embraces joy and grief in new video for "St. Anne's Parade" released via NPR Music
n.pr
giphy.com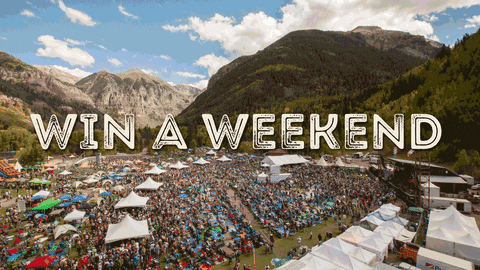 Towering peaks, fall colors, world-class music, craft beer, camping and mountain adventures! Is there anything better? At the Telluride Blues & Brews Festival, we don't think so! We've teamed up with Big Agnes, YETI, Voormi, Maui Jim, Bootdoctors and Backpacker Magazine to offer the Adventure Giveaway of a lifetime! Enter here for your chance to win the ultimate Festival Adventure Giveaway:
giphy.com
Telluride Blues & Brews Giveaway
We're giving away two 3-Day Passes to this year's Festival! Escape to Telluride Blues & Brews Festival on September 16th -18th for a weekend of music and craft beer in the beautiful Rocky Mountains! Enter to win here:
woobox.com
Reacties
Deel uw mening over dit festival